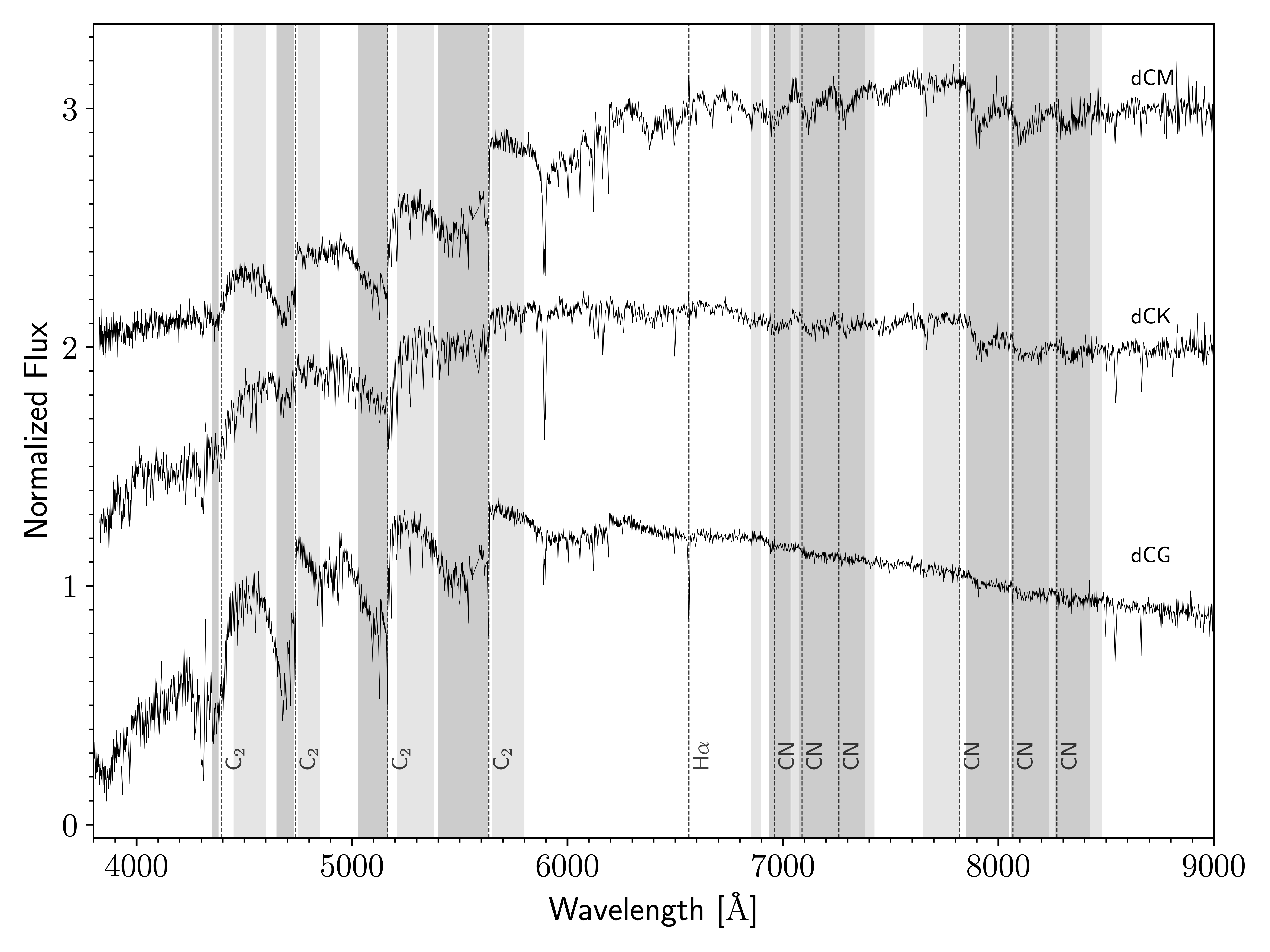 Dwarf carbon (dC) stars are main-sequence stars that have carbon-to-oxygen ratios greater than one (C/O > 1). This gives these stars the unique characteristic molecular bands of C2, CN, and CH in their optical spectra. The figure here shows examples of different kinds of dCs, with varying strengths of their carbon bands.
As main-sequence stars, dCs cannot have created this carbon excess themselves and must have received this enhancement from a companion. My work has used repeat spectroscopy from the SDSS to find radial velocity variations showing dCs as a population must all be in binaries.
Although there are around 1000 known dCs, only a handful have had measured periods. Therefore, I searched for more dC periods using the ZTF survey, finding 34 new photometric periods. Surprisingly, 82% of these have periods of less than two days! These short periods were surprising as they imply that they experienced a common-envelope phase. It was thought that any dC that experienced a common-envelope during formation would have truncated the thermal pulses of the previous AGB companion, stopping any carbon enhancement. However, my work showed that instead, dCs could, and most seem to, enter a common-envelope phase after the carbon enhancement has already taken place. This showed that dCs are a prime candidate for post-wind-Roche lobe overflow systems, and follow-up observations and simulations can be used to constrain efficiencies of wind-Roche lobe overflow and common-envelopes.
As post-mass transfer systems, dCs have accreted significant amounts of mass and angular momentum. Thus dCs may show signs of spin-up and magnetic rejuvenation. I observed dCs with the Chandra X-ray Observatory. I found that dCs show X-ray emissions that are consistent with chromospheric activity and fast rotations.
If you want to read more about my research on these stars, my papers are available below.
dC Papers:
Roulston+2019, ApJ, The Time-Domain Spectroscopic Survey: Radial Velocity Variability in Dwarf Carbon Stars
Roulston+2020, ApJS, Classifying Single Stars and Spectroscopic Binaries Using Optical Stellar Templates
Roulston+2021a, ApJ, Unexpected Short-Period Variability in Dwarf Carbon Stars from the Zwicky Transient Facility
Roulston+2021b, ApJ, Chandra Observations of the Nearest Dwarf Carbon Stars